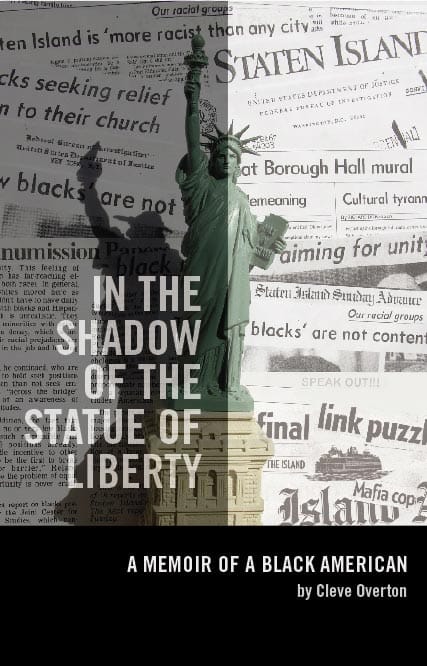 In the Shadow of the Statue of Liberty - 2005
This story, told in great, vignettic gulps of time from childhood to adulthood, is a true story, part memoir, part historical commentary -- a Black man's voice over seven decades. Cleve has written about his search to find that elusive "Gold Ring," his place on his island and in his less-than-perfect world. It is a commentary on the historical gaps and inaccuracies of an island community and its social issues, of how the author coped with systemic racism and managed to make the system work for him. The author's rage and frustration were channeled into artistic pursuits and writings, bringing this story into the light from a darkened box of oblivion. The niche he found himself in, Staten Island, remains a microcosm or American society, and his experiences will be familiar to many Black American men. His life-lessons offer food for thought for Americans everywhere.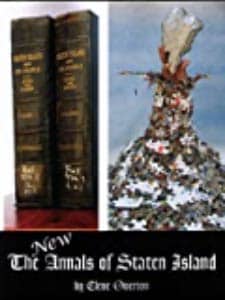 The New Annals of Staten Island
A series of stand-alone essays on topics the author was compelled to explore about his "Struggle Island," where he was born and raised and left behind for other cities, countries and continents. Cleve's words: "One does not necessarily have to finish a book because it's impossible to end a story of human life and that's what this is about. Ask any octogenarian and you will hear of the messiness of our brains. How can I explain the fascination with an era that many islanders cannot possibly remember, and many do not like to have their historical narratives messed with. The editing, rewriting, new political correctness, multitasking over the years, to give this book logic and shape, took a great deal of good luck and hardcore resilience. At times, I am caught in my own mental morass trying to right the wrongs of my early life, the ugly moments and regrets of the past that I continue to find hard to live down. Friends ask, "What's the point?" and never find my version of existentialist philosophy of personal liberation. Being a Black man, my rage and despair accumulate with nowhere to go. Nelson Mandela said, "If you don't leave the bitterness behind, you will still be in prison." Even though racism intrudes on everything, I will continue to write."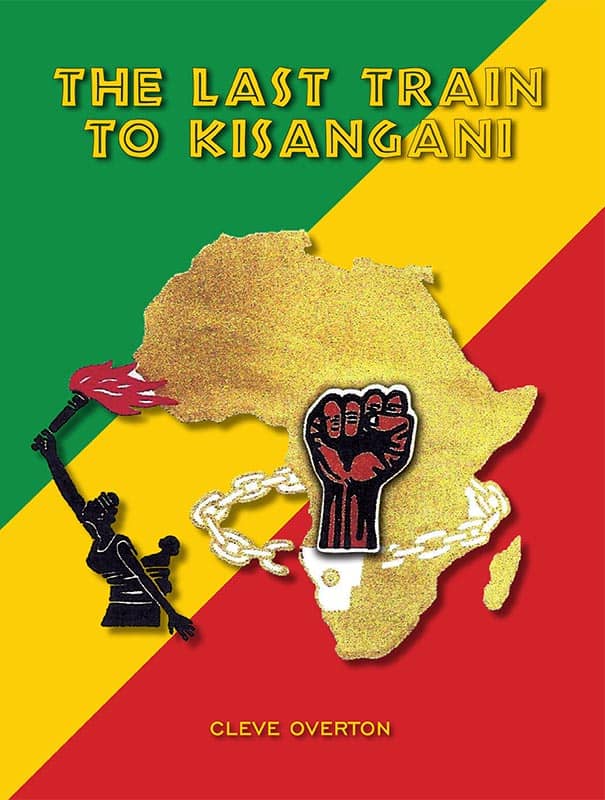 The Last Train to Kisangani
A satirical novel set in an African country, this is a fictional tale based on true events and characters that are composites of real people the author observed and knew during the mid-Eighties in Zaire, now the Democratic Republic of the Congo. The author, who spent his 80 plus years using his hands to create art, has turned to the keyboard to release his memories, characters, visions and dreams swirling around his brain since the first day he set foot on the continent in 1983 in Niger.
Photographic Books by Cleve Overton and Jude Andreasen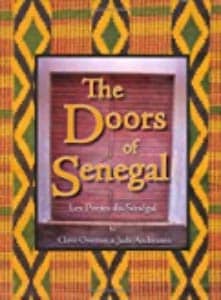 This book has dozens of color photographs of the handmade doors in Dakar, St. Louis, Thies and Gorée Island in Senegal. In a country where wood is scarce and doors are recycled, the book celebrates the ingenuity and creativity of Senegalese artists and craftspeople. Senegal has historic significance as the embarkation point, through Gorée Island, for hundreds of thousands of slaves taken to the New World from African countries. The Senegalese people are resourceful, talented, generous, intelligent, and resilient, and they open their doors to visitors, offering hospitality and friendship. The photographs were taken by Cleve when he and Jude lived and worked in Senegal in 1991-1993.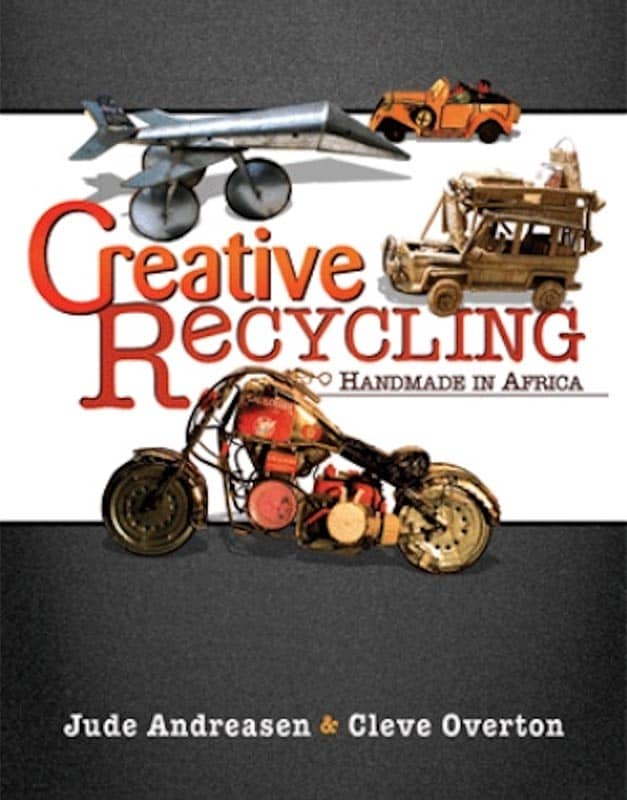 Creative Recycling: Handmade in Africa
This photographic book documents a delightful collection of handmade miniature vehicles, boats and planes made from discarded and recycled material in Africa and purchased in at least 20 different countries between 1985 and 2003. Made from scraps of tin cans, wire and wood. they range from rudimentary to amazingly sophisticated. The collection has educational, cultural and environmental aspects and it showcases the imagination and ingenuity of the children and craftsmen who made them. Authors Jude and Cleve spent 8 years living and working in African countries from the Cape to Cairo, from the Sahara to the rainforest.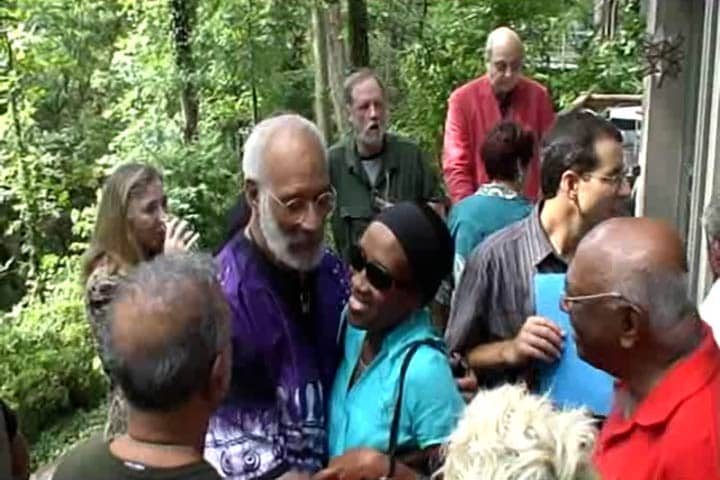 Cleve's 80th Birthday Party
In September 2008, Cleve celebrated his 80 full years with about 80 friends and their children, from all corners of the U.S., at the home of artist Harriet and Phil Lesser in Maryland.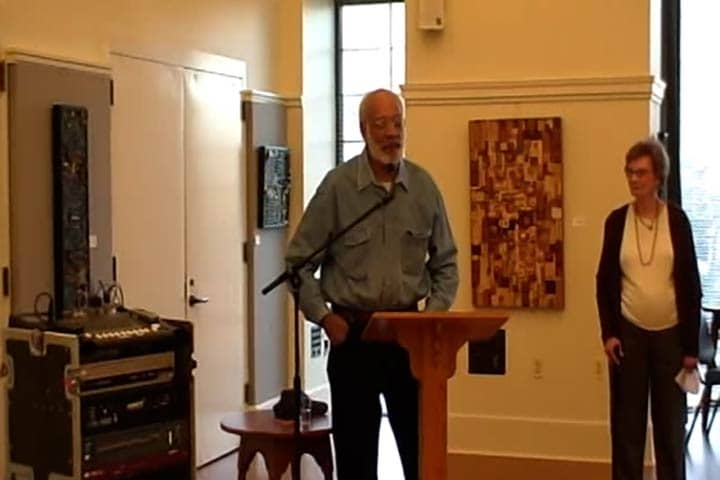 Art Exhibit Opening Reception 2/8/2009 Metropolitan Memorial United Methodist Church
Cleve's largest and last solo show, a retrospective which included 33 works in various media.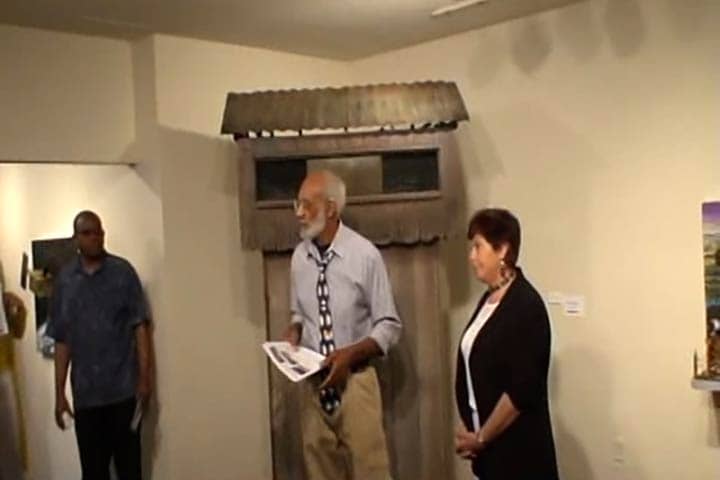 Under Surveillance Art Show
This series was a collaboration by Cleve with well-known artist Harriet Lesser at Parrish Gallery, 9/2010, Washington, DC. It highlights one classic method of surveillance, the tower, to raise awareness of that delicate balance between privacy and security. It includes representations of towers used throughout history in prison camps, refugee camps, dividing cities and countries, war zones and even the detention centers for the Japanese in the U.S. during WW II.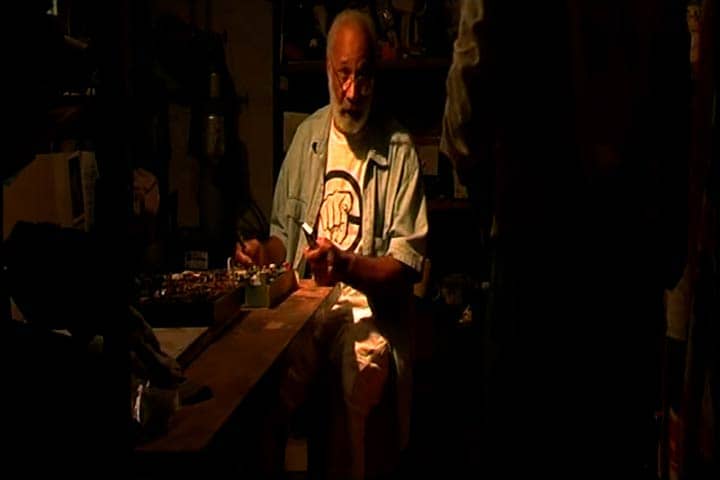 Video with Cleve submitted to Sundance – Fried Sartori
Cleve was approached by the filmmakers to play the role of a wise old man. The film was submitted to Sundance as a short in 2003 by Astrid Dick.